AED Course
AED Course £399.00 + Vat for up to 12 persons.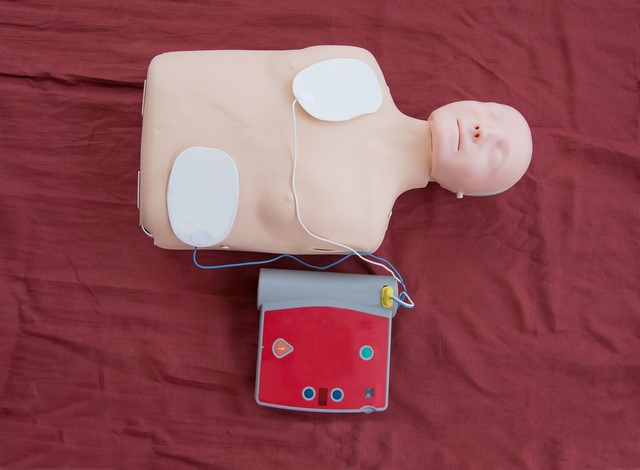 Costs based on delivery at your place of work/venue.
Who is this course aimed at?
Where your workplace assessment recommends that a defibrillator should be present in the workplace and the First Aiders are looking to gain comprehensive certified approval. Successful delegates are awarded with an AED certificate valid for 3 years.
Duration
4 hours over half a day
Course Contents
Course objectives
Understand rules and regulations
Understand the roles of the first aider
Preventing cross-infection
Primary survey – DRSAB
Basic life support (CPR) – adult and child in a school
Automated External Defibrillation
Understand the need for recording incidents and actions
Formal assessment
The training venue will require the following:
* A suitable inside room for theory and practical training, big enough for participants to simulate incidents on the floor, that will be uninterrupted (with an electric socket point)
Access to welfare – toilets, running water, suitable temperature, etc
The candidate(s) should:
Possess the necessary level of mental fitness and learning ability required to meet the course contents above
Possess a reasonable degree of physical fitness to meet the course content above
MHTO Training will provide:
The Trainer/Examiner
All training materials and comprehensive handouts
Projector, screen, flip chart, videos and presentation
Training defibrillator
Mannequins for each 2 participants
Bandages
Training equipment
Please call 07946 498 049
Please email j.saich@mhto.org